The death of San Viano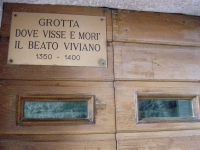 Even on the death of San Viano is handed a legend. One night, a relative of San Viano dreamed that the saint had died in his cave on Apuane.
She get underway soon on the road, and when he arrived at Castelnuovo, asked the way to Vagli, and after much walking recognized the silhouette of the mountain, such as how he had seen in dream.
When he had reached the cave he saw a group of shepherds were watching the body of San Viano, who died a few hours.
Immediately the woman gave a talk with the pastors to bring the body of the saint in Reggio Emilia, but this required the men were not in agreement, resent, and said she would not so sold at any price.
But the woman succeeded in its intention and the elderly were then built a church in the place where the saint was found dead.
That day was May 22 and since then has always been remembered and celebrated on that particular day.