The heavy door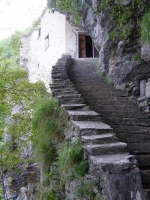 A pastor of Vagli di Sopra, known by all as a man very greedy and cunning, was a night to graze his sheep near the small sanctuary of San Viano. He was reminded that the door of his pen was damaged and worn and needed to be changed soon, the door of the sanctuary, however, was new, robust and more of the same size as that of his pen. Went to church thinking that much, sooner or later, someone else would have devoted to doing another. Him in San Viano we just believed, and that the Holy One to be no door it was accustomed to live, the more time that had died, could do without it.
Without difficulty he succeeded in invalidating the door, if loaded on the shoulders, then began to descend the steps of the sanctuary, but at each step, the door was always heavier, to the point that he was forced to support it on the floor, she is shocked because they do not most could not even move a single centimeter.
He realized that he could not remain there still to support that weight, and is recommended in San Viano and Madonna help it. Suddenly a dim light is lit inside the cave and saw that the shepherd was to bring the door where he had taken. With great effort he tried to raise the door and, slowly, he managed to move and go up the stairs.
At each step, the door was lighter and the Pastor again smoothly into place, then, became the sign of the cross and became a devotee in San Viano and, above all, not desired any longer what belongs to others, particularly to the saints.